In My Mailbox
, a weekly meme, is inspired by
Alea
and the brainchild of
Kristi
...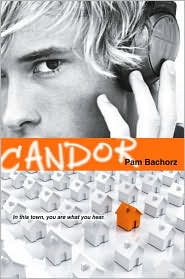 Candor -
Pam Bachorz
In a town where his father brainwashes everyone, Oscar Banks has found a way to secretly fight the subliminal Messages that turn even the most troubled kids into model citizens. On the outside, he's the perfect Candor teen, and no one knows that he's built an entire business around helping new kids escape before the Messages take hold.

But then Nia Silva moves to town, and Oscar thinks she's perfect exactly the way she is. Soon he must make a choice: let Nia be lost to the brainwashing, or help her stay special and risk himself in the process.

All Unquiet Things - Anna Jarzab
All Unquiet Things centers around the murder of teen heiress Carly Ribelli, who was found shot to death a mile from her house in a wealthy Northern California suburb. Carly's uncle, a dissolute alcoholic, was convicted of the crime, but a year later his daughter still doesn't believe her father is guilty. Determined to prove his innocence, Audrey Ribelli contacts Carly's ex-boyfriend, Neily Monroe, the boy who found Carly's body. She is convinced that he knows more than he thinks about the events that led up to Carly's death. Despite Neily's initial reluctance, he and Audrey begin their investigation at the posh private school they attend, identifying prime suspects from among their spoiled classmates and digging up secrets about Carly's past to get to the truth behind her murder.
The ARC I received from
Anna
is also signed, and she included a brief note on a bookmark as well (for a total of six bookmarks!), which was really awesome. The little doll pin is also adorable - check out Anna's site for details as to why the doll. Thanks, Anna!
So, now it's your turn. What was in your mailbox this week?