Once a Witch
- Carolyn MacCullough
*September 14th, 2009 Clarion Books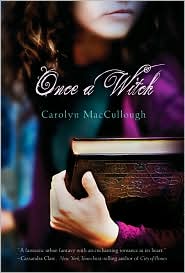 Tamsin Greene comes from a long line of witches, and she was supposed to be one of the most Talented among them. But Tamsin's magic never showed up. Now seventeen, Tamsin attends boarding school in Manhattan, far from her family. But when a handsome young professor mistakes her for her very Talented sister, Tamsin agrees to find a lost family heirloom for him.

The search—and the stranger—will prove to be more sinister than they first appeared, ultimately sending Tamsin on a treasure hunt through time that will unlock the secret of her true identity, unearth the sins of her family, and unleash a power so vengeful that it could destroy them all. This is a spellbinding display of storytelling that will exhilarate, enthrall, and thoroughly enchant.
If Carolyn MacCullough were one of the witches of her own creation, she would definitely be Talented - in the art of writing, that is. With

Once a Witch

, MacCullough has crafted a captivating story about magic and witchcraft.

It's always super-exciting to see new spins on old concepts, but it's especially awesome to see one about

witches

, in light of the recent decade. MacCullough has definitely churned out some pretty original spins here. Tamsin's world is quite an enthralling place, and the fact that it's set right in our real world - and still remains, credible, provided the reader suspends skepticism - makes it that much more impressive.

A few lines of dialogue here and there aside, Tamsin's voice is definitely one of the highlights of the story. It's quirky, fun, vulnerable, strong, and dimensional, all at once. Which of course in turn speaks volumes about Tamsin as a character. Gabriel did feel a little meh or overdone here and there, but nevertheless interaction between the two was always a pleasure. Tamsin's [rather extended] family and "the stranger" were very well done as well, each with unique attributes that made them stand out and be memorable. Especially the antagonist - he was just overall very natural. Another really cool aspect of the characterization is that quite a few of the characters either change, grow, or develop over the course of the tale, and that's always amazing to see.



Once a Witch

is a bit like a roller coaster. It starts off a little slow (in fact, personally, perhaps the Prologue could've been incorporated straight into the story and have it start with the first chapter instead), but then the story, the tension, the suspense, builds. And accelerates. And then it hurtles towards the climax. And let's just say the climax does not disappoint - all that build-up is well worth it. The "ending" sets itself up very nicely for a sequel,

Always a Witch

. Considering the interesting realm MacCullough's plotted and the concepts that (could) be dealt with in upcoming volume(s), it'll definitely be intriguing to see where this'll go.

With

Once a Witch

, MacCullough has crafted a spellbinding and enthralling tale.