Inspired by
Alea
and hosted by
Kristi
, Lucid Conspiracy presents In My Mailbox #9:

This week was pretty much fantastic. Awhile ago, I entered the Find Beauty Challenge hosted by the fabulous Justina Chen Headley. Anyway, my video ended up being the
3rd place winner of books
, which was pretty exciting. This week, I got my prize and it happened to be a box of the following five books (all hardcovers!):
North of Beautiful - Justina Chen Headley
It's hard not to notice Terra Cooper.She's tall, blond, and has an enviable body. But with one turn of her cheek, all people notice is her unmistakably "flawed" face. Terra secretly plans to leave her stifling small town in the Northwest and escape to an East Coast college, but gets pushed off-course by her controlling father.

When an unexpected collision puts Terra directly in Jacob's path, the handsome but quirky Goth boy immediately challenges her assumptions about herself and her life, and she is forced in yet another direction. With her carefully laid plans disrupted, will Terra be able to find her true path?


Twenty Boy Summer - Sarah Ockler
My review can be found here.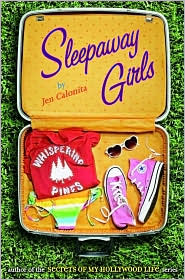 Sleepaway Girls - Jen Calonita
When Sam's best friend gets her first boyfriend, she's not ready to spend the summer listening to the two of them call each other "pookie." Sick of being a third wheel, Sam applies to be a counselor-in-training at Whispering Pines camp in the New York Catskills. But what she doesn't realize is that it's not going to be all Kumbaya sing-alongs and gooey s'mores.

If Ashley, the alpha queen of Whispering Pines, doesn't ruin Sam's summer, then her raging crush on the surfer-blond and flirtatious Hunter just might. At least she has playful Cole, who's always teasing her, but is oh-so-comfortable to hang out with, and the singular gang of girls that become fast friends with Sam-they call themselves the Sleepaway Girls.



Ghostgirl - Tonya Hurley
Now I lay me down to sleep,I pray the Lord my soul to keep.And if I should die before I awake,I pray the popular attend my wake.Charlotte Usher feels practically invisible at school, and then one day she really is invisible. Even worse: she's dead. And all because she choked on a gummy bear. But being dead doesn't stop Charlotte from wanting to be popular; it just makes her more creative about achieving her goal. If you thought high school was a matter of life or death, wait till you see just how true that is.
As children, Jennifer Harris and Cameron Quick were both social outcasts. They were also one another's only friend. So when Cameron disappears without warning, Jennifer thinks she's lost the only person who will ever understand her. Now in high school, Jennifer has been transformed. Known as Jenna, she's popular, happy, and dating, everything "Jennifer" couldn't be---but she still can't shake the memory of her long-lost friend. When Cameron suddenly reappears, they are both confronted with memories of their shared past and the drastically different paths their lives have taken.Sweethearts is a story about the power of memory, the bond of friendship, and the quiet resilience of our childhood hearts.
Mackenzie, Lost and Found - Deborah Kerbel
Fifteen-year-old Mackenzie Hill knows something is up when she arrives home to find her father making a home-cooked dinner, instead of his standard delivery pizza. But nothing prepares her for the bombshell announcement: Mackenzie and her dad, alone since the death of her mother a year ago, are moving to Jerusalem, where her father has taken a position as a visiting professor at a university.

The adjustment from life in Canada to life in Israel is dramatic - though it's eased somewhat when Mackenzie is befriended by an American girl in her new school. The biggest shock of all comes when Mackenzie faces the wrath of her new friends, new community, and even her own father after she begins dating a Muslim boy.
*Thanks The Book Muncher and Deborah!



Rules # 41: If it's dirty, wash it. If it's hungry, feed it. If it's broke, it's Jason.
Izzy's mother had a rule for every circumstance, and since her death Izzy has used those rules to get by. But now her dad is planning to get married—to a woman Izzy barely knows, her friend, Mrs. Mac, is sneaking contraband sausage and her big brother Jason is…well, being Jason. As Izzy tries to fix things she discovers that sometimes you have to make up the rules as you go along.

A touching, often funny story of love an acceptance, Rules for Life is a reminder that while we can't choose the family we were born with, we can choose the people we take along for the ride.
Saving Grace - Darlene Ryan
Fifteen year-old Evie has kidnapped the child her father made her give up for adoption. On the run with her reluctant boyfriend and a sick baby, Evie struggles to figure out what being a mother really means.
Thanks Lauren and Darlene!



So there you have it; my week. Now, how was yours?