The fabulous
Cindy Pon
is the author of Silver Phoenix, which was recently released by Greenwillow Books. In addition to writing, Cindy also paints beautiful Chinese brush art. Visit her home on the web at CindyPon.com.Without further ado, Lucid Conspiracy presents...
Do you have a special thought process to come up with your ideas?
i don't. i'm pretty intuitive as a writer. i like to daydreamand think, and when things come to me, i'll mull them over.i also scribble things in a notebook or type it in my ideas document.usually, they make it into the novel. the ones that make mego A-HA! i call them diamond plops. they are wondrous things!
Diamond plops - I like it! What do you do when inspiration is lacking (i.e. the muse has gone on vacation)?
i just make myself write. i'm not a write very day type of writer, i've learned. i write in month spurts. revising, i canrevise forever. but rough drafting, i really have to just tell myself, i'm writing this month and i'll stop when i'm done.
What advice would you give to other young aspiring writers?
to keep reading. to read widely and beyond your favorite genres.to keep writing. to remember my mantra : I AM ALLOWED TO WRITE UTTER POO.
as writers, we tend to be our own worst critics and enemies.we can scare ourselves out of writing. believe me, i know!so keep writing and challenging yourself! as you will grow and come to find your own voice!
That's a good outlook on things. Words of wisdom - give a quote of personal significance?
i always abide by : expect nothing, be pleasantly surprised.
Oh, I really like that! Speaking of debut novels, let's talk about Silver Pheonix. It's pretty obvious that being of Chinese origin has had some impact on the setting of the story - but would you say that it had any influence on the writing itself or your career choice?
i think the setting most certainly did affect my writing.i couldn't write in a voice that was entirely modern or "western".i could write in my cali speak of whatevers, dudes and mans. ha!i felt the prose and voice had to lend itself to the feel of anotherworld and culture--and i hope i accomplished that.
as far as career choice, i never thought i could be a writeras a career, tho i've written since i was in elementary school.with Silver Phoenix, i wanted to combine my love of fantasy as well as chinese culture.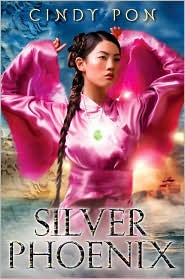 That's great - after all, when it comes to writing, personal enjoyment and fulfillment is pretty important. What were your favourite/least favourite parts about Silver Phoenix (story, process, or otherwise)?
rough drafting and especially the dreaded MIDDLE were very difficult for me. i'm a revising kind of writer. the rough draft, when you don't know what may happen, is scary for me!
story wise, i love the climax. i also love the scene in the bamboo forest.
How did that intriguing title come about?
originally, my novel was titled as Spirit Bound.which makes sense to the story. but it was ambiguous so my editor and i had many brain storming sessions to comeup with another title. Silver Phoenix was one of the last suggestions made.
It's definitely a pretty cool title! Can you give us a little-known tidbit? About either yourself or the book is fine.
how about that my husband was my first boyfriendat twenty-one?i was def a late bloomer. =)i married him two years later.
Aww, that's adorable; and inspiring for others out there who may be late bloomers. There's hope yet! Any peculiar fetishes or fascinations?
other than good food? ha! i love color and flowers and spring time and rebirth. this may come across in a few scene from the novel--but it really explains why i enjoy chinese brush art so much. i guess that's not very peculiar.
Care to share any of your literary crushes?
i am a puddle of fan girl for neil gaiman.it's not just because he's a brilliant writer and oratorand multi-talented all around. it's mainly because he's just so darned nice and charming. you can just tell heis a good soul. fans can't help but adore him.
one of my favorite writers is ursula le guin. suchan inspiration--both in her themes as well as beautiful prose.
Anything to add?
thank you so much for having me, lucid! =)this was a fun interview!!

And thank you, Cindy, for taking the time to answer my questions!
*Silver Phoenix - Greenwillow Books (an imprint of Harper Collins) April 28, 2009.