All good things must come to end, to allow for even better things. Alas, the
contest
for a copy of
After
by Amy Efaw is now over. The silver lining of that, though? It's time to announce the winner! So without further ado... *drum roll*
The winner, courtesy of the Random # generator, is...
I Heart Monster!
Congratulations!
I've already e-mailed you, so please try to respond in a timely fashion. Thanks to everyone to participated, and better luck next time! :)
The Lemonade Award: a feel good award that shows great attitude or gratitude.
Thanks so much,
Books are my Best Friends
!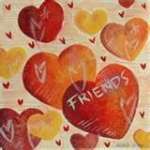 Let's Be Friends Award
Blogs that receive the Let's Be Friends Award are exceedingly charming. These kind bloggers aim to find and befriends. They are not interested in self-aggrandizement. Our hope is that when the ribbons of these prizes are cut, even more friendships are propagated.
Thanks a bunch
A Flight of Minds
and
Books are my Best Friends
!
Both of these blogs are super cool, so be sure to drop by :)

*Will be back to nominate at a time when I'm more lucid. ;) If I've missed one, really sorry about that! Feel free to gimme a prod.